All our professionals at Premier Dermatology Associates of Orange County maintain the highest levels of accreditation and pursue ongoing education to stay abreast of the latest trends in dermatology.

Dr. Melissa Watcher
Melissa grew up in Orange County graduating from the University of California - Irvine with a Bachelor's degree in Bioscience. She then attended the University of California - Davis medical school and completed her internship in internal medicine at the University of California –San Francisco. She returned to southern California to complete her training in dermatology at the University of California –Irvine.
Dr. Watcher has been practicing in Orange County for more than twenty years providing the highest level of general medical and surgical dermatology including Mohs surgery. She is an active member of the American Society for Mohs Surgery and board-certified by the American Board of Dermatology.
Teaching is another passion of Dr. Watcher's and she has shared her expertise through hundreds of hours spent with students of the Physician Assistant Program at Western University in Pomona. She received the "Patients Choice Award" 2010 and "Compassionate Doctor Recognition" 2010-2012.
Dr. Watcher's varied interests include travel, antiquing with friends, and being an avid spectator for her children's sporting events. As an avid runner, she can be found putting on her running shoes and hitting the trails around the nearby back bay.

Dr. Susan Cox
Dr. Cox has been practicing in Newport Beach for 24 years. She enjoys all aspects of her field including medical, surgical, pediatric, and cosmetic cases. She is one of the few dermatologists in the area who has also completed a residency in Pediatrics as well as one in Dermatology. Dr. Cox grew up in Reno, Nevada, and graduated from University of Nevada medical school before doing an internship and residency at Oakland Children's Hospital – one of the largest and most prestigious children's hospitals in the United States. While in pediatrics, she became interested in the field of dermatology and proceeded to do her Dermatology residency at Stanford University. She is board certified by the American Board of Dermatology.
Dr. Cox and her husband, Dr. Craig Cox, then moved to Newport Beach. They have three children who have all attended local schools. Dr. Cox fully integrated into the community becoming involved in charitable organizations, her community association, local youth sports, and multiple board positions in her children's schools.
Balance in life is important to Dr. Cox and she enjoys time spent with her family, outdoor sports such as hiking, skiing, and snowboarding in the Sierras as well as reading, playing the piano, and gourmet cooking.
Dr. H.Tina Kim
After moving to the US from South Korea at the age of three, Dr. Kim grew up in Long Beach, California. She attended the local Long Beach Polytechnic High School, where she graduated first in her class. She moved to the Ea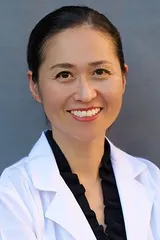 st Coast to study Biochemical Sciences at Harvard University and graduated with high honors.

She attended medical school at Columbia University where she earned Alpha Omega Alpha honors. After graduating with a Dean's letter recognition of "Outstanding," an honor awarded to the top 5% of the class, she stayed in New York City to complete her internship in internal medicine at Columbia NY Presbyterian Hospital.

She then moved to Chicago, where she completed her dermatology residency at the University of Illinois, Chicago. After serving as chief resident her final year, she decided to move back to sunny southern California.

Dr. Kim has been in private practice in Newport Beach for over ten years. She enjoys all aspects of dermatology, including medical, surgical, laser, and cosmetic procedures. She is board certified by the American Board of Dermatology.

Her spare time is devoted to her family. She and her husband also enjoy running, reading, and watching the travel channel. Her family participates every year in the OC Walk to Remember and Celebration of Angels fundraiser.